Track bears harsh conditions at Polar Bear Invitational
Indiana Kokomo University's track and field teams competed in Marion for the 30th annual Polar Bear Invitational at Indiana Wesleyan University. The name was fitting, as the wind peaked at 40 mph and the temperature dipped into the low 20s.  
On the men's side, some key contributors were freshman Tanner Gibson running an 11.77 in the 100-meter dash, taking home 8th place. Gibson also snagged 6th in the 200-meter dash with a time of 25.51. Sophomore Drew Caldwell placed 4th in the 800-meter run with a time of 1:59.80. Senior Cyrus Felger ran the 10,000-meter run, breaking the school record with a time of 32:58. Senior Julian Wallace ran the 400-meter hurdles, with a time of 58.57 and placed 3rd. Wallace grabbed 4th in the long jump with a jump of 19 feet 11 inches as well as 3rd in the triple jump with a jump of 41 ft. 7.75 in. Junior Nolan Talley ran the 400-meter hurdles with a time of 59.44, placing 5th. Sophomore Caleb Vogl placed 7th in the 3000-meter steeplechase, running a 10:43. Junior Jake Cooper got 3rd in the long jump with a jump of 19 ft.11.5 in. Freshmen Gabe Wedmore placed 6th in shot put with a throw of 45 ft. 8 in. Wedmore also placed 7th in the discus throw with a throw of 129 ft. 10 in. Junior Kale Kottkamp placed second in the javelin throw with a mark of 158 ft. 7 in. Junior Keith Dell also threw the javelin, where he got 4th place marking 144 ft. 3 in.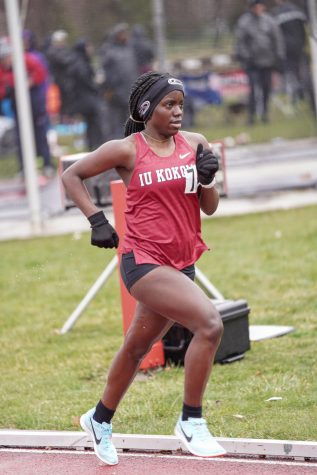 For the women, senior April Chrisman attained a personal best in the 5000-meter run placing 10th and running a 20:36. Freshmen Taylor Roesler achieved the school record in pole vault, placing 3rd with 9 ft. 6.25 in. Sophomore Makala Pfefferkorn set the school record in long jump and triple jump. She placed 2nd and 1st with jumps of 17 ft. 10.75 in and 37 ft.10.75 in., respectively. Pfefferkorn also hit the National "B" standard, qualifying her for outdoor NAIA Track & Field nationals. Junior Emma Byrum set the school record in the shot put, with a throw of 37 ft. 1.75 in. With this, she placed 7th. Byrum also obtained 4th place in javelin, with a throw of 108 ft. 6 in.  
Many of the other teams scratched their athletes from certain events due to the conditions, but the Cougars fought through it and overall tough competition valiantly.
Leave a Comment
Donate to The Correspondent
Your donation will support the student journalists of Indiana University Kokomo. Your contribution will allow us to purchase equipment and cover our annual website hosting costs.
About the Contributor
Cyrus Felger, Copy Editor
Cyrus Felger is the current 2022-2023 Copy Editor/Sports Writer for The Correspondent. He is currently a senior communication major at IU Kokomo and is...