NMAT Senior Exhibition showcases artistic talent
On Apr. 19, the NMAT Senior Thesis Exhibition opened to the public in the IUK Art Gallery. This exhibition showcases the hard work and talent of the Senior artists within the NMAT program. 
Attendees have claimed that this was the best Senior Thesis show, and their claims are valid because there is a diverse selection of artwork ranging from traditional painting to digital character design to sculpture and web design.
The exhibition began with a few words from Chancellor Mark Canada and Dr. Gregory Steel, head of the NMAT program. Afterwards, the student artists explained their work and their artistic processes.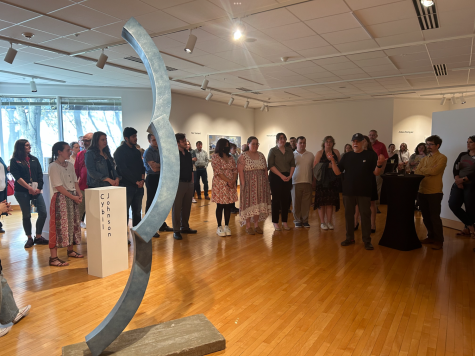 One of the most notable artists of the show is sculptor Cybil Johnson, who received the NMAT Outstanding Student Award this year. Her massive metal sculptures investigate what it means to be intimidating. Her future plans are to go to graduate school with a full fellowship, and she hopes to be a professor someday. 
"Throughout the years, the NMAT faculty and students are like a family that really cares about me, always sticking up for me and cheering me on," Johnson said. "I have always been drawn to metal as a material for my sculptures because it is aggressive."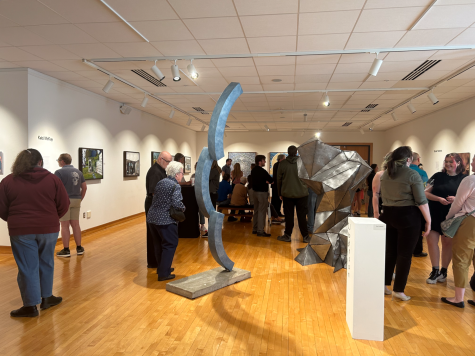 Another notable artist is Ave Brunk. She created a wide variety of textural pieces that relate to her eye condition and how she struggles and copes with it.  
"I have a rare eye condition that is incurable, but I never let that stop me from reaching my dreams," Brunk said. "My work gives people an understanding of my condition and other visual disabilities."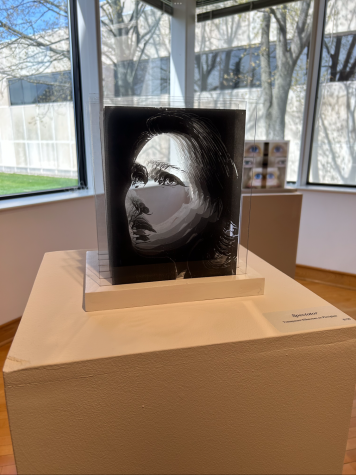 Other highlights of the exhibition include the intricate and beautiful paintings of Kelci McKay, David Curtis, and Alex Townsend; the fabulous character designs of Catie White and Ava Page; the stunning photography of Brooke Hendricks; the mixed media portraits of Adilene Rodriguez, the detailed websites of Michael Larios, and A.J. Bell's unique narrative piece exploring a world where humans are considered a problem.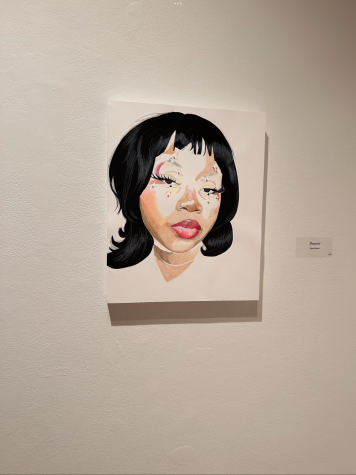 Art is something that brings people together, and the grand opening of the Senior Thesis Exhibition proved just that as crowds of students, faculty, and family and friends of the artists gather together to see the talent that these artists have to offer. 
The Senior Thesis Exhibition is now open in the IUK Gallery. Come and check out the works of these talented artists. There is something there for everyone to enjoy. 
If you are an artist looking for some inspiration, here are some bits of advice that the artists have to offer:
Leave a Comment
Donate to The Correspondent
Your donation will support the student journalists of Indiana University Kokomo. Your contribution will allow us to purchase equipment and cover our annual website hosting costs.