72 Seasons is 77 minutes of some of Metallica's best music
As of the time of this article being published, Metallica's 72 Seasons has already been released to the public. However, as of me writing this article, it is still a day before release. 
I was fortunate enough to attend an early premier of the entire album a day before release in theaters. I want to give you my immediate thoughts and reaction to the album before most people hear it. 
People always want to know the answer to this question: "Is it better than the last album?" I would like to think so in this case. 
While 2016's Hardwired…To Self Destruct was a fine performance by Metallica, there are a few songs on it that are generally considered to be skippable by the fan base and it was nowhere near the caliber of some of their earlier works like Master of Puppets. 
72 seasons feels much more focused as an album, and it feels like it tries to just have good songs rather than trying to have tunnel vision on a certain concept or theme. 
From front to back, 72 Seasons is just blisteringly fast heavy metal and hard rock, and is, in my opinion, Metallica's best performance since 2008's Death Magnetic. 
There are 12 tracks on this album and none of them are lacking in attitude or style, despite each member of the band approaching their 60's.  
Each song on this album stands on its own as a great listening experience, and most of them could likely have been chosen as singles if the band wanted. It is likely that the singles that were released were chosen at random because of just how good each song is.  
The first single released, "Lux Æterna," is a blisteringly fast thrash metal track that is very reminiscent of the band's sound from their first two albums. It's a headbanger from front to back.  
The title track, "72 Seasons," is a lengthy but fast paced hard rock track that will keep your attention all the way through its high-flying lyrics and riffs.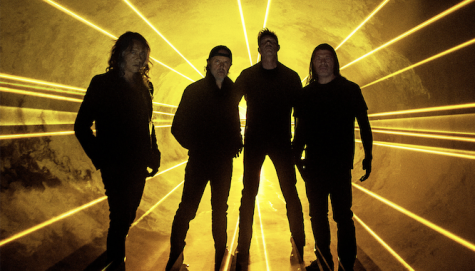 The second track on the album, "Shadows Follow," was not released as a single, which is very strange considering how good it is. Despite it being over six minutes in length, it is one of the fastest and most aggressive tracks on the album that stood out as my personal favorite.  
If you prefer 90s era Metallica in the same vein as "Sad But True," then the song "Crown of Barbed Wire" is for you. Its chugging and low tuned riffs will hit your ears like a right hook to the face.  
If you're more of a fan of some of the softer Metallica tracks like "Nothing Else Matters" or "The Unforgiven," you are still in luck. The closer track on this album, "Inamorata," is possibly the most melodic Metallica song to date. 
In its eleven-minute runtime, the longest Metallica song so far, James Hetfield and Kirk Hammet produce possibly their most beautiful harmonies in any song they've ever written. The second solo in this track is very reminiscent of the hauntingly beautiful "My Friend of Misery" from their 1991 self-titled album.  
Other standout tracks on this album include: "Screaming Suicide," "You Must Burn!," "Chasing Light," "If Darkness Had a Son," and "Too Far Gone?".  
From front to back, 72 Seasons is an intense, emotional, and overall fun listen. There won't be a single minute on this LP that will leave you bored, and by the time you finish, you'll probably just be wanting to hear more.  
Leave a Comment
Donate to The Correspondent
Your donation will support the student journalists of Indiana University Kokomo. Your contribution will allow us to purchase equipment and cover our annual website hosting costs.