King Gizzard & the Lizard Wizard reflect on nature
In their first of three albums released in Oct. of 2022, Australian psych-rock outfit King Gizzard & the Lizard Wizard returned with a new spin on their ever-evolving, never-the-same sound.  
With an intriguing mix of funk and rock, King Gizzard fails to disappoint on Ice, Death, Planets, Lungs, Mushrooms and Lava. 
King Gizzard opens the album with an introspective look at the interconnectedness of life on Earth with the track "Mycelium." Disregarding the fact that you might need a dictionary to pick apart some of the lyrics, the song offers a refreshing mix of funk-rock in its nine-minute runtime which truly makes you feel like a mushroom in the forest.  
The album then gives way to the first single that was released, "Ice V." The lyrics detail an almost science-fiction story about the processes of ice formation deep under the surface of Jupiter's moon, Ganymede. This interesting choice in lyricism combined with the throwback to '70s era funk makes for an interesting listen.  
The next two tracks "Magma" and "Lava" are sister tracks that detail the concept of death and rebirth. The lyrics in "Magma" illustrate how magma in the earth can destroy and create. This combined with the highest soaring guitar riffs and solos in the album makes the track feel like it is half its actual length.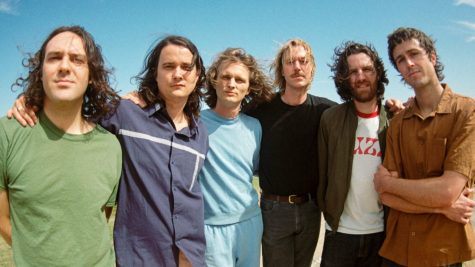 The longest track on this album, "Hell's Itch," clocks in at just over 13 minutes. While the song does feature a variety of sounds and fusions of more funk and rock, the song may struggle to hold your interest over its lengthy run. King Gizzard has made more interesting tracks in the past despite similar lengths, such as the eighteen-minute-long odyssey that was Omnium Gatherum's "The Dripping Tap."  
The last two tracks on this record "Iron Lung" and "Gliese 710" are complete opposites in mood and tempo. The fast, grungy, and heavily distorted "Iron Lung" gives way to the relaxing yet haunting slow jam that is "Gliese 710," which features some of the most impressive and grimy guitar work on the album.  
Though this LP tends to struggle with pacing in some spots, it is still most certainly worth a listen if you find a spare hour while driving or studying.  
King Gizzard and the Lizard Wizard are certainly one of the most interesting outfits on the music scene today, and Ice, Death, Planets, Lungs, Mushrooms and Lava is a testament to that. This album is a solid seven and a half out of ten.
Leave a Comment
Donate to The Correspondent
Your donation will support the student journalists of Indiana University Kokomo. Your contribution will allow us to purchase equipment and cover our annual website hosting costs.