On Sunday, Oct. 29 We Care Trim-A-Tree Festival started the set-up process in the Markland Mall.
The Trim-A-Tree Festival was initiated in 1993 which additional groups, clubs, and businesses would have the opportunity to volunteer for We Care.
We Care is a fundraising event that is usually held the first full weekend of December each year. An all-volunteer organization that 100% of all the funds that are raised is disbursed to selected local organizations that have helped within the Kokomo community.
The auction was Sunday, Nov. 12, and the unofficial total is 84,267.
Story continues below advertisement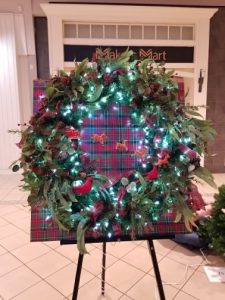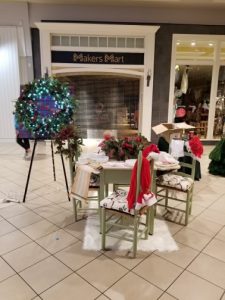 Kim Dubuisson, the property manager of Pack Rat Storage here in Kokomo, has been part of the festival since 2014 and has chosen to do a wreath each year.
Dubuisson said that when her father was alive, he and her mom would listen to WWKI MALE CALL Monday through Friday, and they were listening when We Care started.
 We Care has developed into an annual 48-hour radio/telethon broadcast auction that touches everyone who either lives or works in surrounding areas of Kokomo, Indiana. It is held the first full weekend of December and organized and staffed by local volunteers.
 "I am 63 today and I do it in memory of Bob Roe," Dubuisson said.
Roe is her stepfather, who built Fas Lube Undercar and Pack Rat Storage along with her mother, Carol Roe.
This is Kim's ninth year doing the festival because in 2020, due to COVID, it was cancelled.
"Coming up with new ideas new ideas every year is tough, I do get stressed at the staging part and second guess my idea, décor and nit picking my details," Dubuisson said.
Dubuisson has done a wreath every year and gets the wreath at least two weeks before setting up. She said she enjoys that the wreath can be done to go with whatever she imagines, and lastly and she doesn't put a tree up at home or decorate inside.
 "Get my little Christmas fix and its out the door," Dubuisson said.
Kim shops antique stores a lot and look at websites for outdoor items, when coming up with what theme to do for her wreath.
"I have about a dozen ideas and change my mind," Dubuisson said.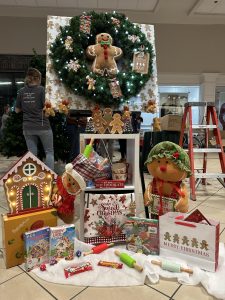 Kaylea Miller, one of the owners' daughters of All Ways Plumbing, started doing a We Care wreath two years ago.
"I do it to help bring cheer to Christmas." Miller said. "I have always loved the We Care trees and decorations," Miller said.
So, she wanted to try and be part of it starting last year.
Miller has chosen wreaths because you get them a week before the event and have time to decorate them and "bring your idea to life," she said.
If a tree is chosen, the tree isn't given or decorated until the night of set up.
"Sometimes people are there until 10 p.m. or 11 p.m.," Kaylea said.
For ideas Miller just looks up different ideas, seeing stuff that stands out, and seeing stuff from previous years.
"It helps me choose my theme," Miller said.
Thousands of people vote with coins and even paper money, and a trophy is given to the decorator of the tree or wreath with the most votes.
Nearly two million has been raised by all the Trim-A-Tree festivals combined and this is the 30th annual festival.
Jamie Sullivan, who came to just look at the Christmas trees and wreaths, makes an visit to the festival annual event.
"It really brings cheer to our family during the holidays, and it has become a family tradition," she said.