Students gathered in the Indiana University Kokomo Art Gallery on Oct. 5 to listen to Michael Koerner speak about the overarching themes in his exhibition, Rise & Fall, such as Covid-19 and deforestation.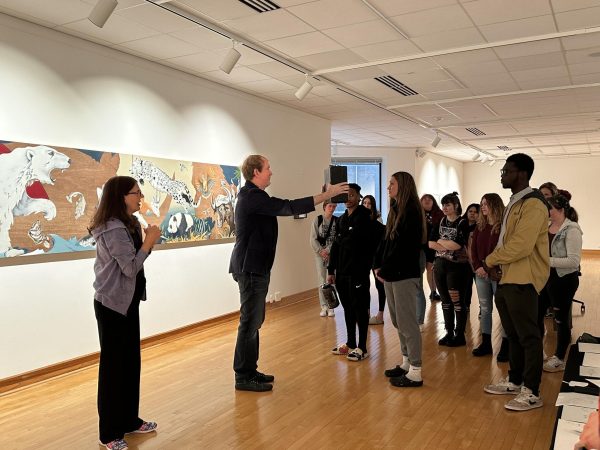 The exhibition consists of 13 graphite drawings, an 18 foot painting, and a 26 foot typography piece. Each piece of art tells a different narrative.
The drawings include images such as a bird, feather, shovel, and a closed sign.
Story continues below advertisement
While a majority of the pieces in the exhibit hold these heavy topics, Koerner's inclusion of the typography piece was to help lighten the collection and remind him that there is hope in the world.
Koerner traveled several places during his sabbatical looking for inspiration. A majority of his time was spent on Vancouver Island in Canada.
He said he wanted to put himself in a place that was wild and unlike his everyday life. He wanted to be in a place that would make him feel inspired. Being in isolation gave him time to think about the issues he wanted to focus on.
 "Making art for art for art's sake is something that I found challenging," Koerner said.
 He went on to explain how he needed to have set parameters to follow to keep everything cohesive and complimentary. He decided on mediums of graphite pencils for the drawing and oil paint for the painting.
"I brought 80 pencils with me on the trip, and it only took me about five to draw the entire series," Koerner said.
Getting the artwork into the Art Gallery is a process. Lori Brubaker, IUK's art gallery manager, said displaying artwork is a several-step process.
"If anyone has enough artwork for a solo show they can always email me an exhibition proposal and those are then voted on by the gallery board," Brubaker said. We typically schedule exhibitions 1-2 years in advance."
One of the students that came to listen to the talk was Hayden Helton. She came with her environmental sociology class.
"I thought it was really interesting just because of the environmental perspective," Helton said. "I love the big piece. It was probably my favorite thing to look at, just how he correlated everything and the layout because you know it's art you can't just smack it all together. It's very structured, which I really like."
She went on to say that she was very impressed with how well he incorporated sustainability into the artwork.
 "I think it notes that we have all these beautiful materials in our environment." She said, "Like he said he hated painting over the wood, we should be appreciating what we have."
The exhibition will be open Mon.-Thurs. from 10-5 p.m through Nov. 9.