Featured Artist: Abigail Carman
Everyone has their own way of viewing the world, and each perspective varies from person to person. Artists take their world view and showcase it in their work as a way for the public to see the world through the artist's eyes.  
This issue's featured artist is Abby Carman, a junior of the NMAT program. She is an artist who works with a wide variety of media such as printmaking, painting, or a combination of different media. Her colorful and playful style takes her on a creative exploration of the world around her that she uses to create her art.  
"As an artist, I would say I'm very articulate, detailed-oriented, and whimsical," Carman said. "I let my theory guide me on what material process I should use for a specific message I want to convey at that time because I don't stick to one medium."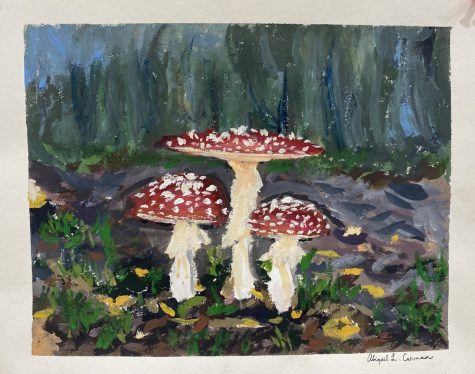 Three of her favorite pieces greatly showcase her unique style. Afternoon Tea is realistic oil painting showcasing the tranquility of a relaxing afternoon. Amanita Muscaria is a whimsical gouache painting of three red mushrooms standing in a patch of grass and rocks. Dragonfly Tiffany Lamp is a colorful screen-print piece highlighting the details presented in stained glass.  
"Dragonfly Tiffany Lamp was inspired by my personal theory of capturing the whimsical and articulation I desire for in my works," Carman said. "I look at details in everyday objects to find these intricate patterns. Looking at an everyday object with a whimsical perspective allowed me to capture the colors, the intricate patterns, and the texture. My final product will leave the viewer with an opportunity to see the whimsicality behind everyday objects."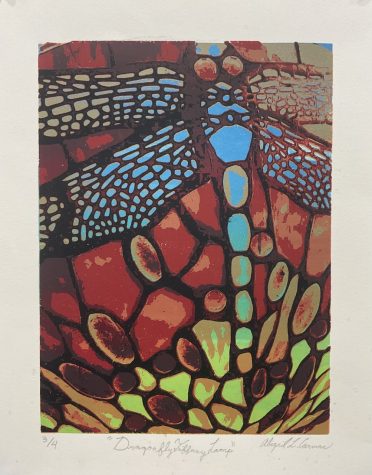 Carman's work allows us to step away from our current world for a moment and see a world full of color and whimsy. It also inspires us to see beauty in the objects we see every day. Her attention to detail makes her work lifelike, and the colors entice the viewer to observe.  
Art is a great way to show how we see the world with our eyes, and it helps us see the world through the eyes of others. An artwork shown in a gallery is more than just a creation positioned in a space for the public to see, for it is an open door that allows us to see the world the way that the artist sees it. 
Leave a Comment
Donate to The Correspondent
Your donation will support the student journalists of Indiana University Kokomo. Your contribution will allow us to purchase equipment and cover our annual website hosting costs.