Featured Artist: Kelci McKay
When one thinks about what art is, usually self-expression comes to mind. Most modern art is a showcase of the artist's life and values presented in a creative way. Self-expression is an important aspect of art because it allows the artist to show who he or she is, and it allows us to know about him or her more.  
This issue's featured artist is Kelci McKay. She is an NMAT senior who is devoting her studies to studio art. Her favorite medium is painting, but she also experiments with digital media as well. Her artistic vision expresses the way she sees herself and the way she thinks and dreams in a creative manner.  
"As an artist, I like to self-express my inner-voice through my paintings containing either playful imagery and/or fluid brush workings," McKay said.  
The paintings that she offered to share with the IU Kokomo community are Back to the Old House, which is an oil painting showing a blue, sunlit room and two acrylic paintings: Self-Portrait, a showcase of identity, and Two Best Friends, which references the LGBTQ+ community.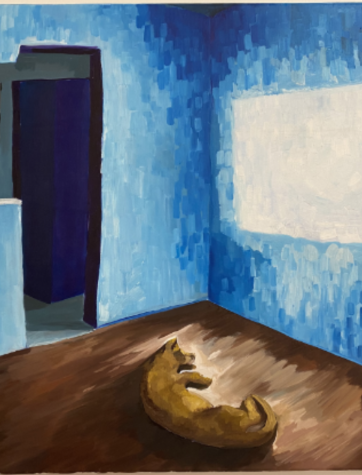 "Two Best Friends was created for an assignment last semester in my painting course," said McKay. "The assignment was about juxtaposition and the stylistic approach I wanted to take was to have a more graphic style mixed in with a realistic style to fulfill the assignment. The content juxtaposition that is included in this piece is not only the styles but also the real ads that I found in my research. The two punk women are from a photo I found in an article about queer women in the 80s and 90s; punk was a sort of genre of rock that came from around the 80s and has a deep connection to queer culture itself. Some of the clippings around the two subjects are also real ads that I had come across; 'Wanted- Husbands For These Girls' was a clipping I found as an ad in a magazine and the "Girls Without Men" was a title of a lesbian pulp fiction book. I had all of these clippings together to create a more playful approach to this piece but also to recognize how far women have come in terms of feminism and queerness."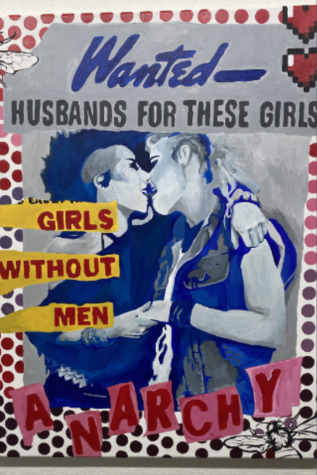 An interesting fact about the piece is that she created a digital collage that she used as a template for the painting. This is a common practice that she uses before creating a large painting so that she can see what it will look like beforehand.  
"The process for this piece was that I took all of the elements I wanted and created a digital collage before I drew it onto my canvas," said McKay. "An artist I really admire who also creates a lot of collages in her paintings and other works is Mickalene Thomas. Her work is insanely gorgeous and I recommend everyone to look at her." 
Art is the perfect form of expressing oneself in the world in the most authentic way possible. It allows others to learn more about ourselves, gain a deeper understanding of who we are, and it invites us to gain a different perspective on the people we encounter every day. Art is more than just creating a work for all to see, for it is a learning opportunity that makes us appreciate our neighbors more than we have before.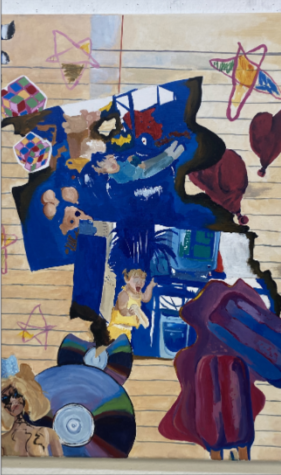 If you would like to see Two Best Friends and Self-Portrait up close, you can see them at the Student Exhibition at the Campus Gallery near the library. I highly recommend seeing these two paintings in person because they are impressive. Also, be sure to check out McKay's work and those from the other NMAT seniors at the Senior Exhibition later this spring.  
Leave a Comment
Donate to The Correspondent
Your donation will support the student journalists of Indiana University Kokomo. Your contribution will allow us to purchase equipment and cover our annual website hosting costs.