Activities fair provides opportunities to get involved
Calling all students interested in extracurricular activities! The spring Indiana University Kokomo activities fair kicked off on Jan. 18 in the Kelley Student Center. The fair provides a fantastic opportunity for newer students or students who have recently developed new interests to join an extracurricular club at IU Kokomo.  
The student center's atrium was filled with a couple dozen tables, each with a different club that students could sign up for. The tables stretched from the front service desk back to the library's main doors. 
If you have been a student at IU Kokomo for a while, you may already know the layout for the activities fair, as it normally occurs once per semester.  
Some clubs that were present at the fair included: the Dance Club, Field: A Journal of Arts & Sciences, The English Club, Ed-Sac, Women in Business, E-sports, Student Sustainability Council, Cougar Choir, IUK Band, Orchestra, and Student Government. Even us here at The Correspondent had a table and sign-up sheet. 
For those interested in exercise and fitness, the Weightlifting Club was present at the fair. Students could participate in a push-up challenge or a grip strength challenge to win some sweets as a prize.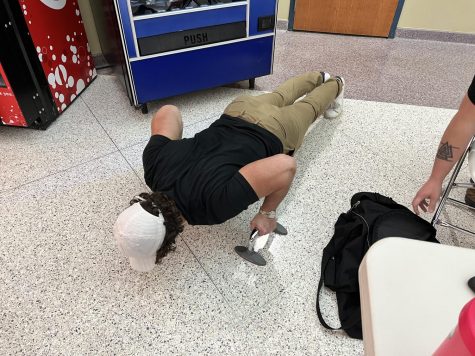 For students who may be more musically inclined, the Cougar Choir, IUK Band, or Orchestra might be clubs to investigate. If you are looking to further your musical prowess in either singing or a variety of instruments, be sure to check them out!  
Any student interested in helping the environment and doing conservation work may want to check out the Student Sustainability Council. Aimed at promoting sustainable and green practices in the current world climate, the council helps to advise IU Kokomo on what could be done around campus to help foster a greener output.  
Other clubs at IU Kokomo that were not present at the club, but still may be options for students to join: the History and Political Science Club, the IU Kokomo Band, the IU Kokomo Film Society, and the Philosophy Club.  
Be sure to sign up for any of these clubs if they interest you, as they are all great ways to bolster your interests as well as prepare for a potential career. 
Leave a Comment
Donate to The Correspondent
Your donation will support the student journalists of Indiana University Kokomo. Your contribution will allow us to purchase equipment and cover our annual website hosting costs.