Featured Artist: Lily Page
 If you were to look back on the people who have influenced you in your life, family members might be some of the first people that come to mind. We learn a great deal from our parents and siblings because they are the people that we spend the most time with in our day-to-day lives. They also inspire us to pursue hobbies and interests such as music and art. 
This issue's featured artist is freshman Lily Page. She is a NMAT major who works with a wide range of media including digital illustration and traditional drawing. Some of her most significant influences are her family members, especially her older sister, Ava, who has helped her throughout her artistic journey. 
The first piece that is showcased is a digital portrait of the Mad Hatter from Alice in Wonderland. However, this portrait is not based on the Mad Hatter from Disney's animated classic from 1951, rather it comes from the live-action production of this beloved story, where Johnny Depp takes on the role of this kooky character.  
"With this piece, I wanted to capture the depth of the Mad Hatter's character," said Page. "In contrast to the original, Johnny Depp's portrayal of this iconic figure communicates an imperfect soul who is easy to relate to. Lewis Carrol wrote a story about growing up, and Depp's Hatter beautifully captures how the character feels lost between reality and child fantasies." 
The second piece is a digital painting of Gwen Stacy, one of the artist's favorite characters from the Marvel Universe. This piece was created as an experimentation with digital illustration and working with the styles of a comic book or graphic novel, according to Page.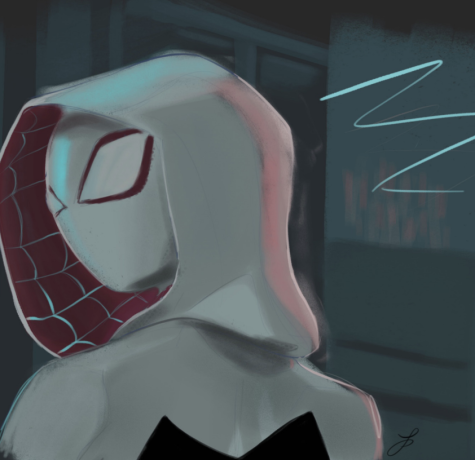 The final piece is entitled Lady with Purse, a graphite drawing. The purpose of this piece was to experiment with traditional media and strengthen her skills in drawing human figures. 
"This piece was an exercise in traditional art and realism, focusing on line work and simple rendering," said Page. "My goal was to keep the lines as loose as possible while maintaining a solid form." 
Our lives are heavily influenced by the people that surround us, and art acts the same way because others offer advice to the artists and help them build their skills. Artists find the support from their family and friends which allows them to become better artists in the future. Art is an experience in which we learn about and from each other through creation and appreciation.
Leave a Comment
Donate to The Correspondent
Your donation will support the student journalists of Indiana University Kokomo. Your contribution will allow us to purchase equipment and cover our annual website hosting costs.