Featured Artist: Braydon Lake
Whenever student art is displayed in the campus gallery or in a creative and research journal such as Field, many people always believe that the artist behind the work is an art student. However, that is not always the case. There are many talented artists on campus that pursue other studies and have a passion for creating art.  
This issue's featured artist is sophomore Braydon Lake. He is a double major in Secondary Education and History/Political Science who has a passion for creating art. His medium of choice is painting with acrylics and spray paint.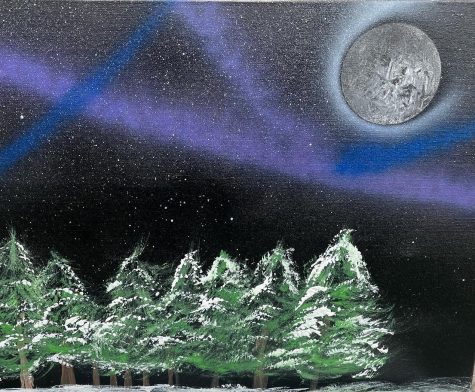 During the COVID lockdown of 2020, many people found time to pursue a new hobby, especially creative hobbies to combat the uncertainty of the pandemic and to learn something new. Lake picked up painting during this time and has had a passion for it since.  
"I started painting when the pandemic hit in 2020 as a hobby," said Lake. "And it's just something I do when I have free time and feel like creating something." 
The three paintings that Lake has offered are a few of his favorites. They were personal projects that he created for sheer enjoyment. All three of them are landscape paintings that feature vivid colors, outstanding details, and elements found in outer space. These pieces were a way to give spray-painting skills a try after seeing other artists using them online, according to Lake. His favorite of the three is the skyline painting.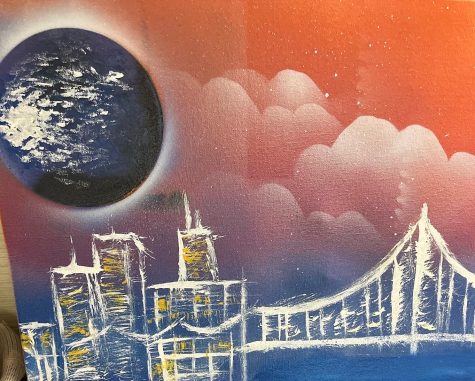 In addition to creating art, Lake also pursues music as a hobby. He combines his passion for art and music in some of his other works. 
"I've also painted designs on guitars in the past to merge my hobbies of music and painting," He said.  
Lake's work is a fitting example of showing how one does not need to pursue an art major to create amazing art. Anyone can be an artist, and anyone can create art if they have the inspiration for it. Art is not an activity that is reserved for certain people, rather it is an activity that anyone can participate in to show a little bit about themselves and what they are passionate about.  
Leave a Comment
Donate to The Correspondent
Your donation will support the student journalists of Indiana University Kokomo. Your contribution will allow us to purchase equipment and cover our annual website hosting costs.