On Halloween, among the frightful stresses of homework, tests, and papers, the IU Kokomo Office of Student Life and Campus Diversity hosted multiple festive activities that welcomed students to celebrate the spooky holiday. 
During the day, Student Life partnered up with the Student Union Board, CAD, and SAWB for an event filled with pumpkin and sugar skull painting and a costume run where students and faculty showed off their fabulous costumes around campus.  
In the evening, the Student Marketing Organization, The Correspondent, and the Cougar Choir conjured up some more Halloween fun with the campus Halloween Party in Alumni Hall. 
Story continues below advertisement
Students and faculty engaged in the Halloween spirit by making crafts such as fall-inspired keychains with gemstones and balloon ghosts. There was even a table with an assortment of rubber ducks dressed in costume that told whether guests would receive a trick or a treat. Guests who were lucky enough to receive a treat received goodie bags with festive prizes. Party entertainment was provided by the Cougar Choir as they performed a medley of the iconic songs from Nightmare Before Christmas, a beloved Halloween classic.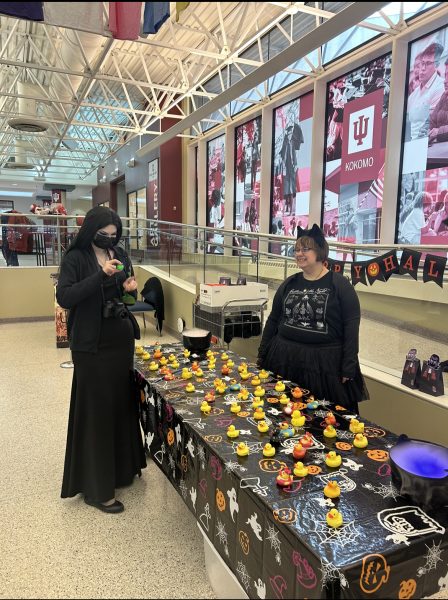 "The party started just as a regular game night idea," Sarah Napier, member of the Student Marketing Association, said. "When we decided to have the event on Halloween, we decided to have a full Halloween party instead. The choir's performance as well as having The Correspondent and Student Life helping out made it a fantastic opportunity to show off these wonderful organizations to the campus community. We are looking forward to producing more successful events to impact campus in a positive way in the future." 
The greatest highlight of the party was the costume contest where guests could vote on their favorite costumes. In third place was Julienne Carlile with her beautiful monarch butterfly costume. In second place was The Correspondent's own editor-in-chief Cyrus Felger with his impressive Sherlock Holmes costume. Finally, the first-place title went to Myah Halter with her stunning portrayal of Morticia from the Adams Family.  
Whenever there is a special holiday, it is certain that IU Kokomo will do anything to celebrate it. These celebrations offer a great break from the stress of schoolwork while also creating enjoyable memories.