Featured Artists: Senior Focus
When one explores IUK's campus, the legacy of senior students of the past and the present live inside the campus walls. That legacy sometimes makes its way into our world, impacting our people. Art is one of those ways that these seniors influence their world today.
This issue's featured artists are four of the NMAT seniors that will soon be leaving IUK and sharing their artwork with the world beyond the campus doors: Ave Brunk, Ava Page, David Curtis, and Marlene Regalado-Alanis. The works that they have decided to show are a great representation of them as artists today and who they want to be in the future. The media used in these pieces are digital illustration, traditional drawing, and printmaking.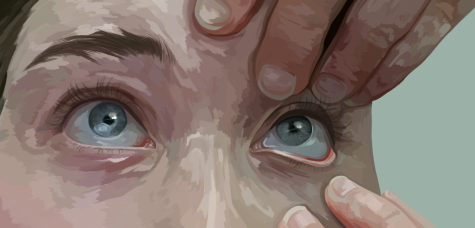 Open your Eyes by Ave Brunk is a digital illustration piece and is a great one to explore first.
"I made this piece as a representation of my blindness, my disability, and how frustrating it can sometimes be to work through," said Brunk. "No matter how much I 'open up my eyes,' I will never see better. However, this isn't a death sentence. I'm learning to cope, and I'm finding new ways to live my life all the time."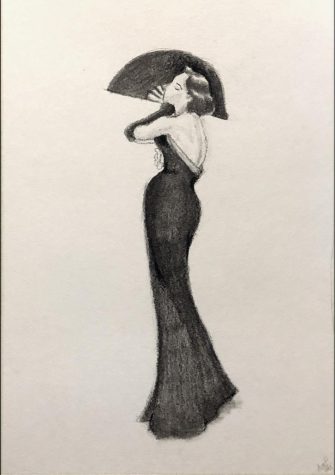 The second piece featured is the second drawing from Ava Page's series entitled Golden Age, which showcases drawings of models in elegant fashion.
"This piece is inspired from the elegance of the 1920s and 1930s era of movie stars at the start of the golden age of black and white film," said Page. "The medium I chose for this artwork was charcoal, allowing for a more dynamic contrast of values. My focus for the piece and the others in the series were contrasting lines and values, accentuating the motion of the figure. This series stands as one of my favorite works up to this point."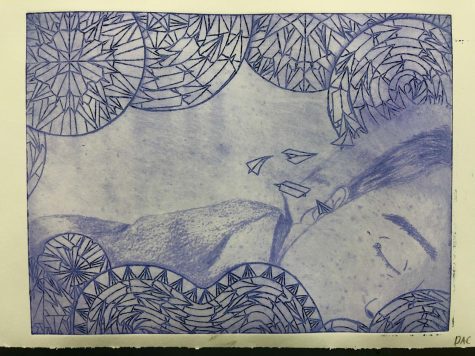 The next featured piece is Dream Bringer by David Curtis, a solar plate print. He relates the piece to his childhood.
"Ever since I was a little kid, I always had really vivid dreams that would take me to many different worlds," said Curtis. "This made it so that I always loved to go to sleep as a child because I couldn't wait to start dreaming. This piece tries to encapsulate that feeling I had when I was kid, and that is also why I titled it Dream Bringer."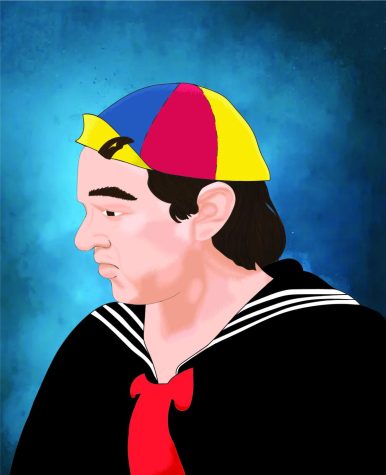 The final piece featured in this issue is a digital piece entitled Quico by Marlene Regalado-Alanis that she created for her digital illustration class.
"The assignment was to choose a hero, villain, or even a character that was a mixture of both," said Regalado-Alanis. "I wanted to do an actor/actress that was popular within my Hispanic culture and so that's why I chose Quico from the TV show called 'El Chavo del Ocho' which was a Mexican sitcom by Roberto Gómez Bolaños. Quico was one of the main actors of this TV show and displayed traits of an anti-hero. In my process, I first found the overall skin tone. From there on, I looked for the darkest and lightest skin tones with the help of digital reference pictures. I then continued to break down further shades of darker and lighter skin tones or shades. The goal for this assignment was to make it look realistic and I think I did a pretty decent job at it. Obviously, there's room for me to improve, but I'm proud of this piece."
The journey to becoming a artist is not easy, but it can be a memorable and unique experience. Art is not always about the finished piece alone, rather it is about the creative paths that these artists took to get to where they are today.
Leave a Comment
Donate to The Correspondent
Your donation will support the student journalists of Indiana University Kokomo. Your contribution will allow us to purchase equipment and cover our annual website hosting costs.